November Newsletter - Hot off the Press
---
---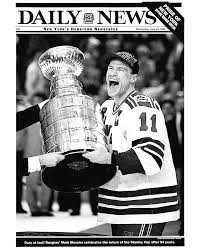 ---
November Newsletter
Welcome back Hawks! This last month has been an exciting start to the season and next month is much more of the same... Check it out!


Happy Halloween!
Thank you for the great laugh Scarlett - even Leaf fans can appreciate this one! Hope you all stayed dry and had a Happy Halloween!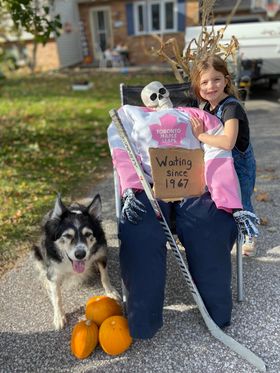 Social Media Updates
To continue posting wonderful content of our athletes, we require everyone to sign a photo release form. We will continue monitoring content until these have been submitted, and/or the guardian or the parent has indicated that their child is okay to be in said content. If you do not want your children to be on our social media platforms/site/emails, please emails us the following information: First & Last Name; Team Age & Division; Player's Jersey # (not necessary to provide a reason why.

Otherwise please submit the following form if you have not yet done so;

PHOTO RELEASE WAIVER 2022/2023
A HUGE announcement - due to popular demand, we have just released our new Facebook group strictly for streaming Practices/Games. This will allow accessibility to those who can't attend our games and will offer a more inclusive community. Thank you all so much for your patience in the process, we wanted to ensure this group would be a safe and welcoming community with rules that reflect our values. We appreciate your enthusiasm in the project.


Join the 'Orillia Hawks Live' Group by scanning the QR Code below, or finding us on FB at Orillia Hawks Live';


Fundraiser - Chicken on the Run:
Thank you Lindsay Commanda for setting up this awesome association fundraiser with Chicken on the Run! This fundraiser will take place from now until the end of the season and multiple orders can be placed - share with your family & friends!
Ensure to use the code HAWKS 2023 at check-out to contribute to the association!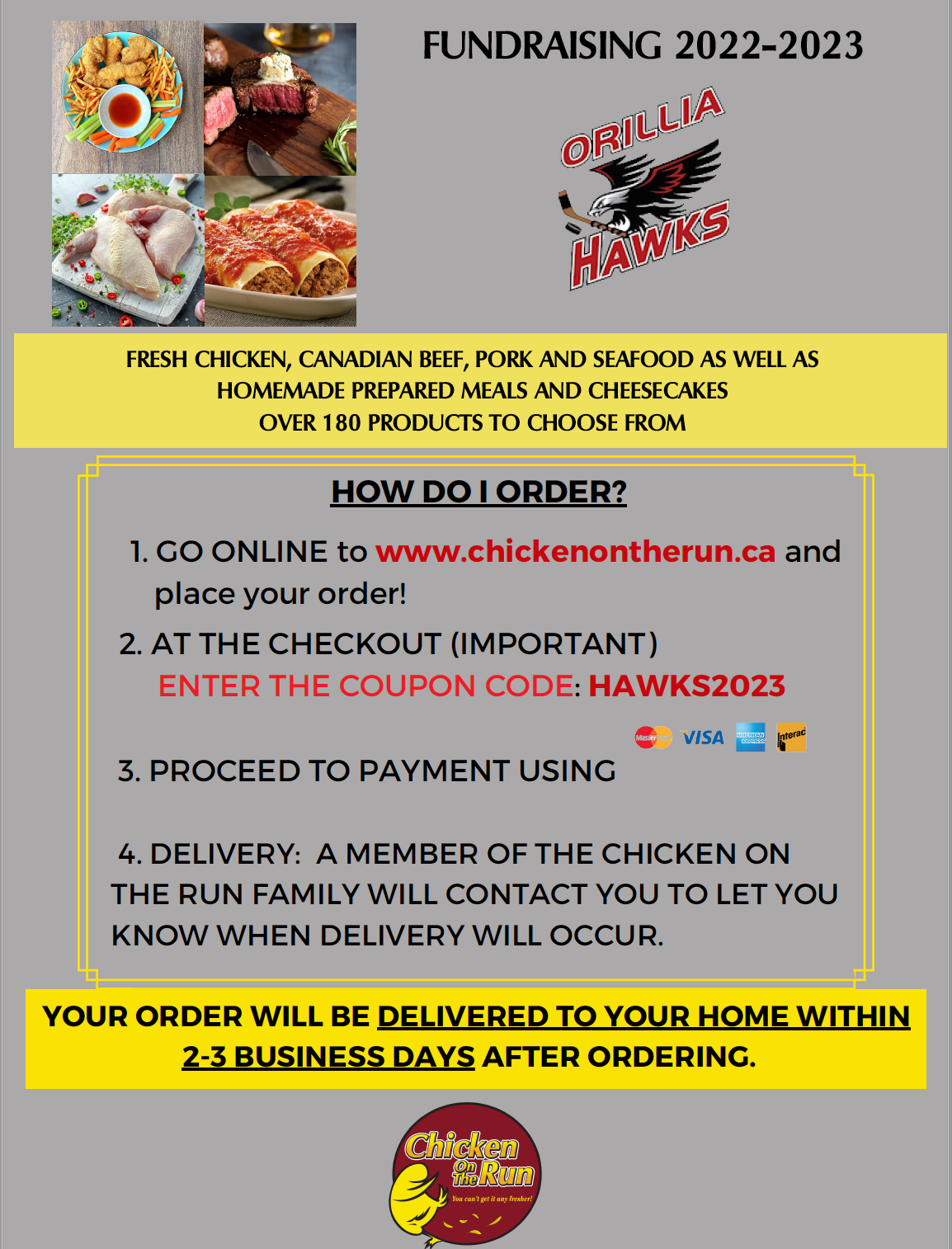 Apparel Round #2
Apparel will be available for a second round of orders until November 15th! If you missed the first round of orders, this is your chance!

Visit the Kutting Edge E-Store to place orders --> Orillia Hawks Apparel
Here are some samples!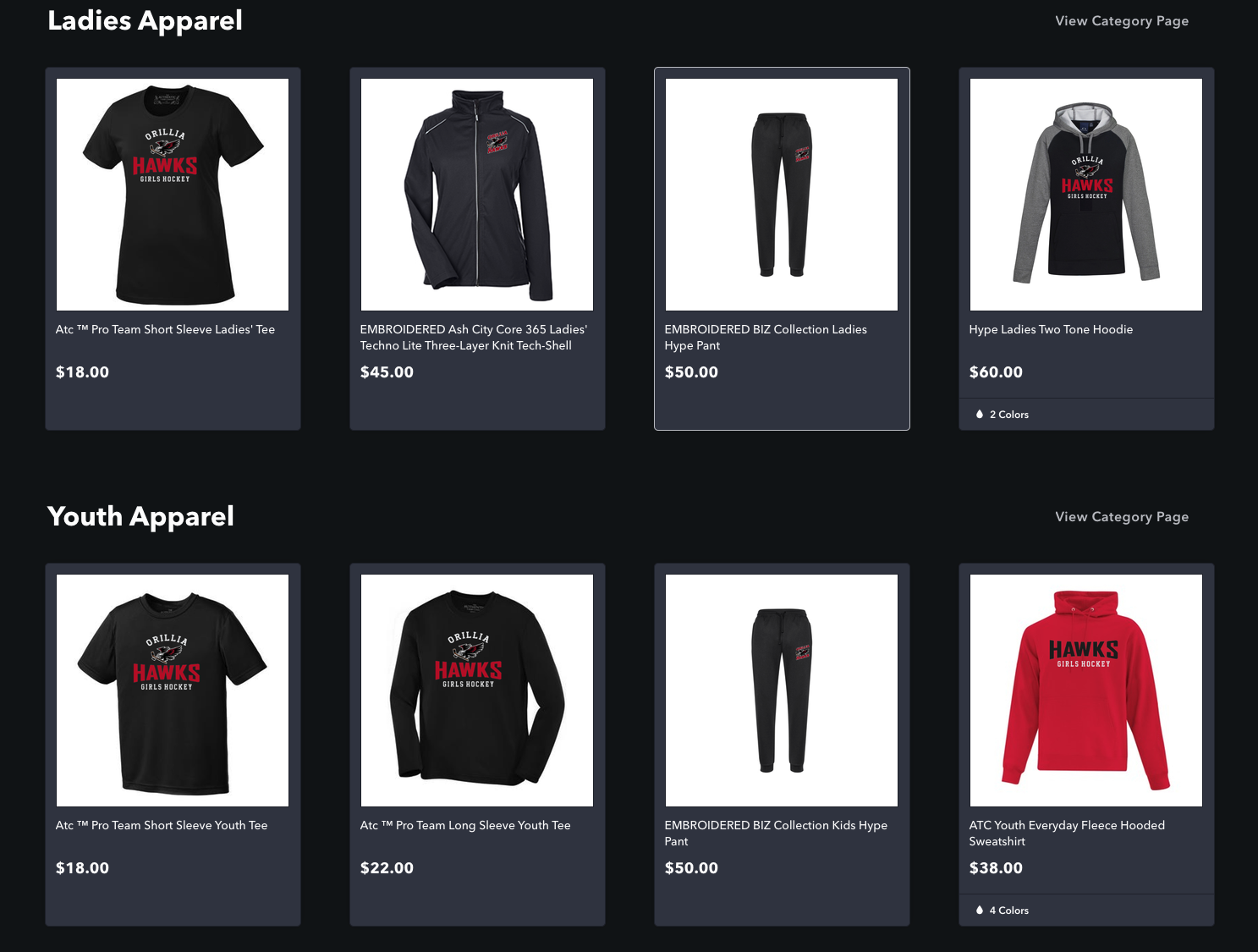 #WomenInSport - Josee Exposee!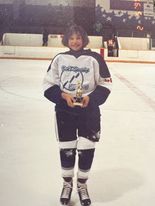 As one of our many initiatives this year, we have decided to highlight specific Women Leaders within the OGHA, to promote the idea of of Women in Sport. This month we're highlighting Ms. Josee Anne Drapeau for her leadership the the amount of enthusiasm she's brought to our U13HL Team.
Josee is an Executive Assistant/Scheduler with the Ontario Provincial Police. She has been with the OPP for almost 19 years. She is currently the Head Coach for the Hawks U13HL team - "I've decided to coach this year because seeing the girls grow as individuals and seeing their level of confidence go up is what it's all about. The team this year is already bonding very well and it's fun to see their big smiles. My knowledge and skills and from the other staff on the team have definitely had an impact already in such a small timeframe. There's no I in team, we are all growing together which is amazing to see."
Josee, and her 2 young daughters, are huge advocates for healthy living, staying active, and keeping young women in sport! Josee is extremely passionate about hockey but is involved in many other sports because of what they have brought to her life - "[Sports] have shown me way more than the activity itself. [Sports] have taught me team work, patience, organizational skills, my strengths, and how important it is to work hard at what you love doing"
Josee is a Habs fan and continues to play the game she loves - "I don't always watch the games but they are definitely my team! I started playing hockey at the age of 8 years old. I did figure skating first. I've played in girls hockey back home in Iroquois Falls, played college Rex and now I play in the Renegades, Orillia Women's Hockey League."
We asked Josee, "If you knew what you know now, what would you tell your younger self?", and she didn't disappoint...
"As a female we can't go to the NHL but we can definitely dream to go to the olympics. That goes for any sport. Sports teach us a lot more than just the game and skills. It keeps us out of trouble, responsible, active and most of all makes friendship that can last a lifetime. I have so many friends that come from playing sports. I'd tell myself to work harder and don't worry if you didn't make a team. Life isn't based on that specific moment. We fall but we have to pick ourself up and keep pushing. Practice does make things better. Always stretch as it prevents injuries and makes you more mobile for the games. At 40 I am still playing the sports I love and I am actually better due to the knowledge and skills I've learned along the way."
Thank you Josee for participating in our 1st Women in Sport monthly dedication. And thank you for being such an amazing role model for young women.

If there is someone in our association that you would like to highlight and thank for the work that they've done, please let Erin know at Communications@orilliagirlshockey.com !
Hawks Tournament
We have had record-registrations for our tournament!
We're very happy to report that we've had a record number of registrations for the tournament, and almost all divisions have more than enough teams for a fun round-robin and finals.
We're still looking for one or two teams for the following divisions;
U11BB
U13C
U13BB
U18C
U18BB

If your team, or a team you know, is in one of those divisions and you're looking for a great tournament, follow the link below!
Registration is LIVE! Please go to the following link to register;
For hotels, follow this link (and check back often as new hotels are being added all the time):
For more information about the tournament, go to our website link here: Tournament Details
Refs, Coaches & Timekeepers
Hello All - REGISTER AS A COACH/REF AND THE ASSOCIATION WILL REIMBURSE YOU FOR THE COURSE FEES

We are currently looking for more Refs & Timekeepers from the Orillia area. If you or anyone you may know would be interested in these positions, please contact Laura at VicePresident@orilliagirlshockey.com, for more information.

You are also welcome to sign up using the link provided here --> https://www.rampinteractive.com/assigningv2/login?v2=83d70f0d
If you happen to want to be a coach or trainer, please know the Association will reimburse you for the fees - remember to keep your receipts! Please email us at vicepresident@orilliagirlshockey.com if you're interested!

Looking forward to adding you to the team!
Development Clinics
This season, we had the wonderful opportunity to attend clinics free of cost. Needless to say, we have been blown away by the amount of players looking to develop their skills and grow as athletes. Thank you to Pat Hayes for setting up the clinics and our everyone who has put time into these (including our 18U teams assisting on the ice - fantastic to see!). Over the next few months we will be trying to post more clinics that are available in the area to allow for as much opportunity for growth as possible. If anyone has any suggestions, please let Brian Gogarty, Pat Hayes or Erin O'Connell know!

Go Hawks Go!